The Really Popular Book Club
14 February 2023
The Really Popular Book Club is the reading group hosted by Cambridge University Libraries. Everyone is invited to join the club and their special guests to discuss a really popular book of the week.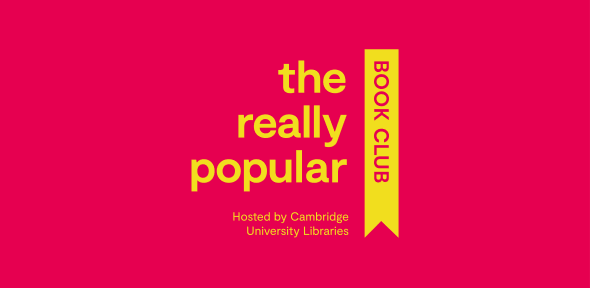 The Really Popular Book Club
The Really Popular Book Club is the reading group hosted by Cambridge University Libraries. Everyone is invited to join the book club and their special guests to discuss a really popular book, one that we all know and perhaps or perhaps not love.
Past titles
The Northern Lights by Phillip Pullman (November 2020), The Da Vinci Code by Dan Brown (December 2020), Girl Meets Boy by Ali Smith (February 2021), The Immortal Life of Henrietta Lacks by Rebecca Skloot (April 2021), Wonder by R J Palacio (April 2021), Wolf Hall by Hilary Mantel (May 2021), Nineteen Eighty-Four by George Orwell (June 2021), Giovanni's Room by James Baldwin (July 2021), The Mermaid of Black Conch by Monique Roffey (August 2021), The House at Riverton by Kate Morton (September 2021), A Streetcar Named Desire by Tennessee Williams (October 2021), Pompeii by Robert Harris (November 2021), The Mistletoe Murder and Other Stories by P.D. James (December 2021), Hamnet by Maggie O'Farrell (January 2022), The Stranger's Child by Alan Hollinghurst (February 2022), Where the Crawdads Sing by Delia Owens (April 2022), My Name is Red by Orhan Pamuk (May 2022), Atonement by Ian McEwan (July 2022), Possession by A.S. Byatt (August 2022), Never Let Me Go by Kazuo Ishiguru (October 2022), The Name of the Rose by Umberto Eco (November 2022), The Snowman, Father Christmas and Father Christmas Goes on Holiday by Raymond Briggs (December 2022), Sofia Khan is Not Obliged by Ayisha Khan (January 2023).
How to become a member
Each of our club meetings is completely free to join, and is open to everyone including members of the public and students and staff of the University.
To attend one of our club meetings, simply follow the links above. You will then receive an email confirmation containing a joining link.
You will need to register for each club meeting you want to attend. Keep an eye out here for all scheduled club meetings.
FAQs
Q: Does the book club take place in-person or online?
A: The Really Popular Book Club takes place online using Zoom Meetings.
Q: Do I need to download any software to join a club meeting?
A: No. Each club meeting is being held via Zoom Meetings which does not require that you download any software, or even register an account, to take part. When you click on the link (issued to you via email following registration), you will be taken to your web browser and be prompted to download Zoom. Ignore this and scroll to the bottom to where it reads "If you cannot download or run the application, join from your browser" and select the hyperlinked text, "join from your browser". For those who already have the Zoom application on their computer or device, the link will open the club meeting automatically through the application.
Q: Do I need to have read the book to attend?
A: While they hope that you are as passionate about the book as they are, it is not a requirement that you must have read the book beforehand. You may wish to use the book club meetings for inspiration, but beware of plot spoilers!
Q: What can I expect when I join the club meeting?
A: Upon 'entering' the club meeting using the link issued to you when you registered, you will arrive in the virtual room with the other club members and the week's hosts. If you have your webcam on (which is encouraged to give the meeting the more personal touch), the book club hosts will see you, but they will keep all your microphones muted. Individual microphones can be turned on by yourselves or our behind-the-scenes producer should you want to talk to the 'room'. The hosts then talk about the book using the questions prepared in advance as a guide (see individual club meeting to see what the questions for each book are – other questions and comments are also encouraged!), and there is also the opportunity to take part in polls throughout the session.
Further information about The Really Popular Book Club, including FAQs, can be found here: https://www.lib.cam.ac.uk/bookclub